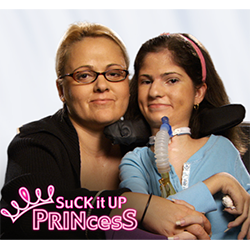 Client: OMNI Television / Hop To It Productions
This 1 hour Documentary in English and Portuguese is a powerful exploration of courage and strength. A musically enhanced one hour view into the world of Renee Rodrigues, 19 year old website designer, moderator, reporter, charity organizer and victim of degenerative congenital muscular dystrophy. Renee had a 500lb wheelchair, a tracheotomy and constant pain but that didn't stop her for a second. She was hip, cool and popular on-line with friends like Hilary Duff, K-Os, Shawn Desman and Jully Black. She managed the social media for the TV series "Hip Hop in the T-dot". She made the most of every second and was an inspiration to us all. On Thursday Dec. 20, 2012, Renee passed away from complications caused by CMD. We were honoured to have the opportunity to work with Renee during her short life and we hope that this documentary remains as a testament to Renee's life. Renee made a difference in this world. We miss her every day.
Produced by Nina Beveridge and Susan Nation
Directed by Nina Beveridge
Edited by Paul Hart
Film reviews, awards and nominations.
TRAILER
Suck It Up Princess from Paul Hart on Vimeo.