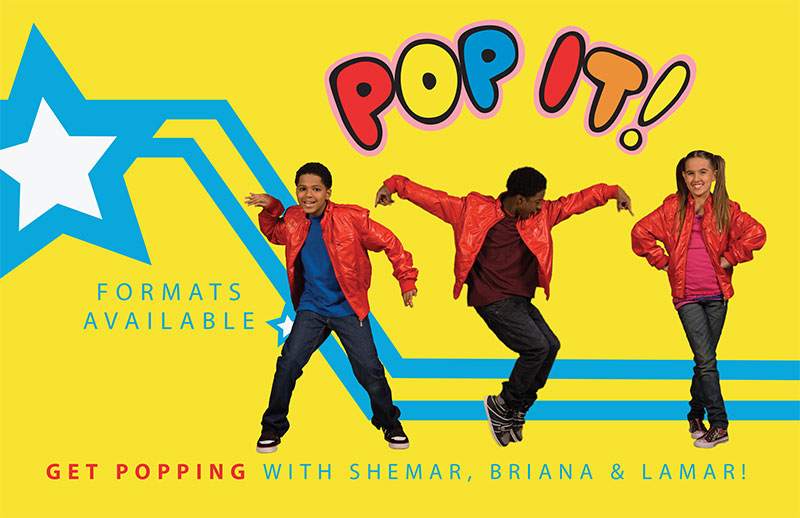 Client:  TVO
"Pop It!" interactive dance-along TV series for kids age 6 to 11 that offers fun, exercise and entertainment. Each show features a catchy original pop song, cool music video clips and our 3 charismatic young hosts teaching routines from the video clips. Now kids can dance like a music video star and get a great workout at the same time! 
Produced by Susan Nation and Nina Beveridge. Directed and Edited by Paul Hart
Season 1: 26 x 7 minutes;  Season 2: 26 x 5 minutes
URL:  www.popittv.com
The Pop It! website gives our fans with fun facts about our stars, Briana, Shemar and Lamar as well as online dance classes and music videos.
Popmania was a fun, proprietary Mash-Up tool that allowed users to choose music, video clips, and photos from our Pop It! TV series along with a vast library of backgrounds, text bubbles, sound effects and clip art, and edit them together into a video that can be shared with friends! Due to the closure of our streaming video server, Nirvanix, Popmania is now delisted.
Awards and Nominations:
2009 GEMINI Nomination, Best Cross Platform
2009 ACT Nomination, Best Cross Platform
2009 ACT Nomination, Best Interstitial
2009 LA Youth Talent Awards, Best Live Host – Shemar Charles