Interview with Michel Campeau, Assistant Director, Operations, Asia Branch, Canadian International Development Agency.
Tuesday, October 19, 2004
Our first day on the road. Paul, Bongo, and myself all piled into Bongo's van and headed up to Ottawa where we saw Michel Campeau at his house. Michel worked with Dad during the Jamia Project in India, and Michel's wife Katie used to be our babysitter. It was great to see them again.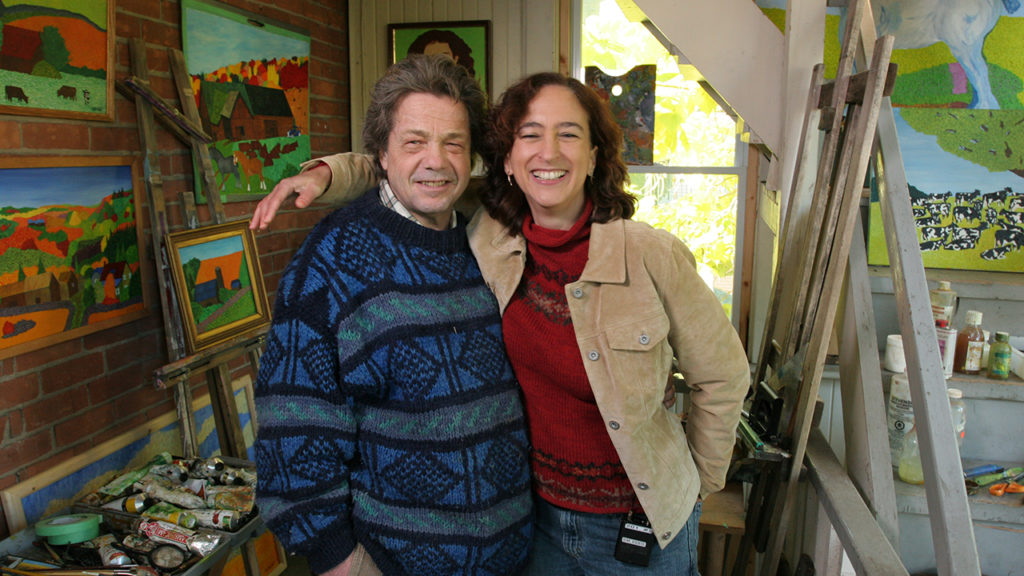 Meeting with filmmaker/painter Gary Nichol in his  Ottawa studio. Gary was a protegé of James and Margaret Beveridge.
Wednesday, October 20, 2004
Up early again this morning, we drove out to Pink's lake. It's strange now that it is so accessible. We used to play here endlessly as kids. It was a perfect typical Canadian fall day, and the lake was just awash with the most intense colours of the season. I think we got some beautiful footage. We interviewed Gary Nichol, actually the originator of this project. He spent years with our family as one of Mom and Dad's many assistants. They tended to take in these wandering types and Gary became our babysitter while he learned the craft of filmmaking from my parents. He eventually went on to become a filmmaker with the NFB. He is an artist now and lives in the Gatineau parklands. From Pink's Lake we went to his house and had a nice interview with him in his studio.